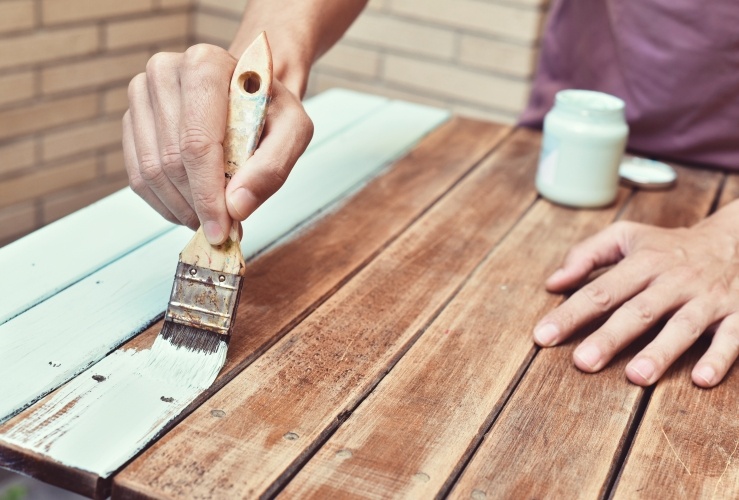 3 Home DIY tips to get you through Lockdown 3.0
We're not used to spending so much time in our homes, but whilst we are, it's important that we make the most of it.
It gives you a chance to play more with the kids and also see to those bits of DIY that you have either not been able to get round to doing or purposely avoided.
There's no getting out of them now and you shouldn't want to as they will benefit your home life.
Show your home some love with these three simple DIY jobs and it will love you back:
Add a lick of paint to those rooms in need of it!
One of the quickest and most effective ways of reviving a room is to patch up any paintwork that's looking untidy. Hopefully, you might have a tin of the original paint lying about somewhere and a few paintbrushes stashed away.
For a more drastic transformation, change a colour scheme completely by fully repainting a room in a fashionable shade.
As it's now spring, a sage or olive green colour seems fitting, or try a cheery yellow.
To get a combination of colours, paint your skirting boards and doors in different finishes.
Do a bit of fixing and recycling
It's unheard of for a home to have nothing that needs fixing – there's always something in need of repair.
Certain pulls, handles and knobs on your cupboards could be loose and need tightening or a fence panel in the garden wants mending. You can sort this yourself rather than pay someone to come and remedy them for you once lockdown is over.
If you're a hoarder, now would also be an apt time to repurpose any rarely used items you have in the house.
Get your garden organised for spring / summer
Being stuck indoors for so many hours of the day can be tough, so use your garden at every opportunity to breathe in some of that fresh air.
In ordinary circumstances, we'd encourage you to bring the outdoors indoors, but current circumstances demand a reversal – taking the indoors, outdoors.
So get that garden furniture and those bean bags out so that you can relax in the sunshine, whilst the kids take to their swings and slides.
Give the garden a good tidy first to maximise the space, donning your gardening gloves for all that mowing, weeding and preening you need to do.
If you are considering selling or letting your property in Ashtead, Leatherhead, Fetcham, Epsom, Bookham or the surrounding areas, call V&H Homes on 01372 221 678